If you are reading this right now, you might be wondering what hydroponics is and although it sounds like something out of a sci-fi movie it's a really simple concept and for extra knowledge on the topic we have some of the Best Hydroponics Books . Hydroponics is basically a branch of agriculture/gardening where in plants or crops are grown without soil and in its place nutrient or mineral rich water is used.
There are two majorly used subsets of this method. However for beginners and people seeking to grow plants at home, the static solution culture is recommended and we have a beginners guide to Hydroponics. In this method, small containers like Mason jars, plastic tubs, buckets etc. are used. The outer surface of these containers is covered using materials like foil to eliminate sunlight. This is to ensure the elimination of the growth of algae. The solution kept in the containers is usually aerated but if it is not, you could opt for leaving some space for the plants to get the required oxygen. An opening is provided in the lid of the container to facilitate the flow of air.
The nutrient solution can be changed either after regular intervals of time or after the concentration of the nutrients in the supporting medium reduces. A float valve can also be used to automatically control the concentration of the solution. However this calls for a greater budget.
There is also another method called the continuous flow solution culture. This method is best suited for industrial hydroponics. It includes the flow of a nutrient rich medium along the roots of various plants. Though this method might prove to be profitable and more efficient in the long run, it might not be the best route to take for beginners and people looking to have a garden in their homes. This method does not cater to space crunch and would take up a lot of place. This might cause a problem in everyday use.
Also you might be wondering which plants can grow in such an environment. The leafy variant of plants are most well known to grow through this procedure. Plants like spinach and lettuce are well supported through the hydroponic method. Cherry tomato, kale etc can also be grown using this technique.
Now that you are acquainted with the general concept of hydroponics. Here are some of the top books, which you might want to look into for extra knowledge on the topic and for a detailed 'how to go about doing this'.
Hydroponics: The Complete Guide To Hydroponics For Beginners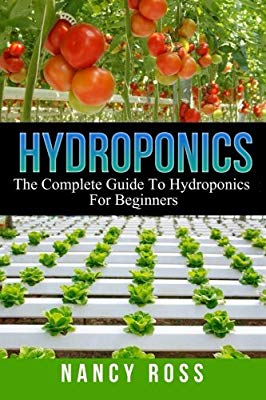 Nancy Ross's book on hydroponics is like a small summary of where and how to start with hydroponics. This is a really short book which almost works like a pamphlet to give you a quick overview on the subject. If you are just starting this is a really great place to begin. It is short and Swift and is possibly the easiest way in to get to know about hydroponics and decide whether or not you are willing to establish yourself in the field.
Hydroponics: A Beginner's Guide To Growing Food Without Soil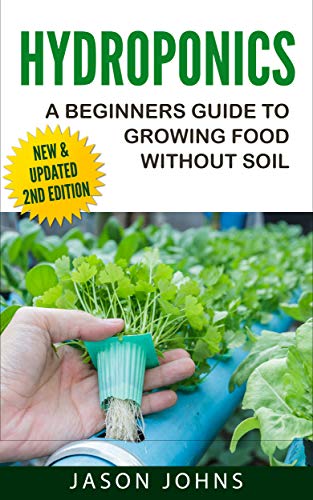 This book by Jason Johns is a holy Grail to stepping into this method of gardening. As it is a book for beginners its language is simple and easy to understand. It does not go in much detail of the subject as it is for amateurs however it is a great start. This book is available for a dollar on Kindle and for less than 5 dollars as a paperback. It ensures that you start off on this venture on the right terms. It contains the basics required to start off. Though the book is minimally comprehensive it is elaborate in its explanation.
Hydroponics: Hydroponic Gardening: Growing Vegetables Without Soil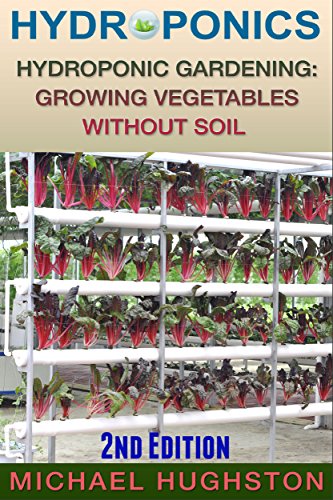 Michal Hughston the author, in this book gives a brief overview on the how-to's of hydroponics. The best part about this book is that it also contains a section of the *don'ts* and the problems that might arise. It explains the ways in which you could venture into hydroponics without burning a hole through your pocket and also gives you the best advice in order to maintain your equipment to get the best results out of it. All in all, it is the book that you would want to refer to before starting off.
Urban Organic Gardening Handbook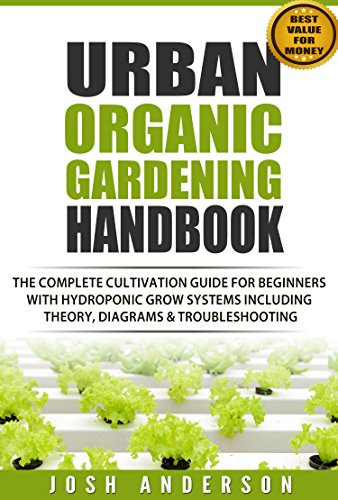 This book by Josh Anderson provides more or less a review on the various problems of a beginner and methods to help curb all of the problems. It also includes diagrams for better understanding. It contains minute observations and variety of ways through which modern and organic farming can be carried out. Though this book might not be well known it was one of the greatest referral books for beginners.
Hobby Hydroponics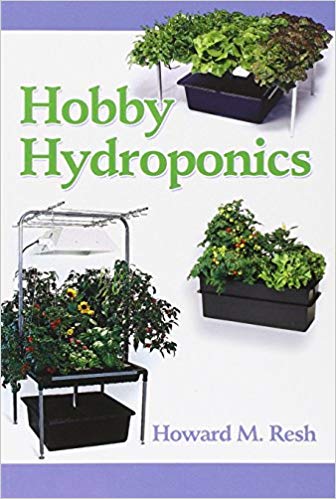 Howard M. Resh created a masterpiece by writing this book. It contains the perfect amount of complexity to really get into the field of hydroponics. Though this book might be on the pricier side it is one of the most profoundly written books. It takes into account the expenses as well as the procedure of starting off a hydroponics garden. It helps subject beginners to a more wider glance at the method of gardening. The book boasts of its easy to understand yet elaborate descriptions completed with a set of diagrams and pictures to help facilitate easier learning.
How-To Hydroponics (The fourth edition)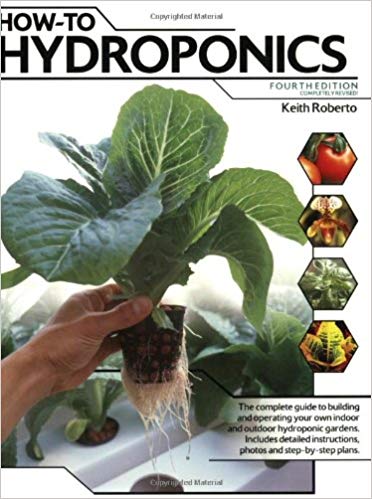 Keith Roberto in this revised edition has put into words the simplicity and the art of hydroponics. This book has been revised time and again to provide a better connect and easier understanding. It gives you just the right amount of information to help avoid mishaps and set you on the right path. It contains information about a variety of systems and their benefits. It is a wholesome buy for a starting gardener.
Hydroponics: The Essential Guide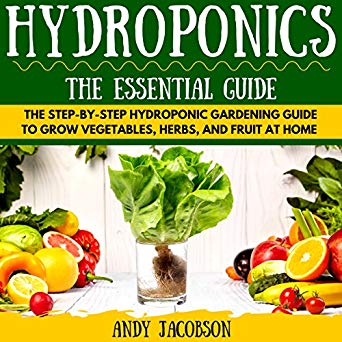 Another one of the basics book by Andy Jacobson teaches what all beginners should do to have a successful run in hydroponics. As this content basically aims at people just starting to look into hydroponics, most of the books mentioned including this one, consist of very basic information through which you can start your journey in hydroponics. Author Andy Jacobson has years of experience in the field however she has curated this book in a way that would be more or less designed specifically for people who have just started. This book helps understand how to begin with the whole practice.
Hydroponics: A Practical Guide for the Soilless Grower (2nd Edition)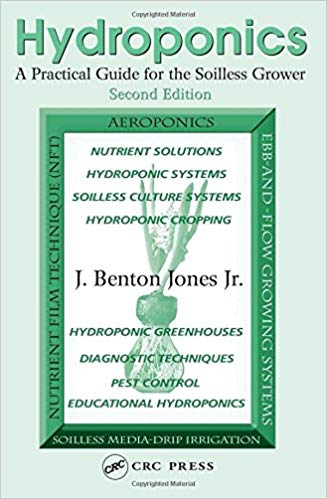 This book written by Dr. J. Benton Jones is exactly the book that you would want to reach out for once you are a more established hydroponic gardener. Dr. Jones with his years of research in the field gives us a more scientific perspective on the subject and helps us understand the science that goes behind strengthening your foot in hydroponics. This is a more complex sort of a book that is recommended mainly after a year or two of practicing your desired kind of method in hydroponics.
Once you have your ground set and would want to venture further into the field, this book would be your way to go. A very valuable detail in this book is the information given on nutrient media which might prove to be useful for both beginners and people who have been into hydroponics for years. There are very few to no books on hydroponics which display the science that goes behind the process which itself makes this book a must buy.
So which is the Best Hydroponic Book?
All of the above mentioned books are available on Amazon. Most of these books are available at very cheap prices and are a bargain considering the amount of information that they contain. They are either completely elaborate or simply basic. None of the books cover everything about hydroponics so you might want to take your pick according to that. My recommendation would be to start of with basics and then as you feel more comfortable about hydroponics you can go for the more comprehensive sort of books. The most basic would be Hydroponics: The Complete Guide To Hydroponics For Beginners by Nancy Ross and the most complex would be Hydroponics: A Practical Guide for the Soilless Grower (2nd Edition) by Dr. J. Benton Jones.
Hydroponics as a field of gardening has proved to be very useful and easy. It's various methods helps you to pick your preferred method and enjoy your time gardening. The books available are hit or miss but the ones mentioned above will surely help find your path down hydroponics. Hopefully this article was able to shed some light on the field and answer your queries about hydroponics. All in all in theory it might seem a little scary to start off given the amount of science that goes behind it but once you start you'll see how much it changes your garden for the better. Practically you are only taking care of your plants in the way that you usually do but giving them a lot of the nutrients that they might miss out on if they were to be grown in the generic manner.
Happy Reading and Gardening