Everyone loves aquariums (who don't have ichthyophobia), whatever size it is big or small we just love to see the fishes just swimming around minding their own business. Now all these aquariums big or small will contain sand or gravel, plants, bubble makers (as a kid I used to think how that diver made the bubble), corals, decorative items etc. and of course the main thing FISH.
But these are not the only things required for an aquarium there are some other essentials materials required in an aquarium which provide our fishes all the comfort they need. These are filters, lightings and aquatic heaters. Filters and lightings all of us have heard and seen, but heaters are something new. And in this article we will help you in finding the best aquarium heater.
What are these aquatic heaters?
Fishes are cold blooded animals. This means that they are not able to produce their own body heat like us humans, they depend on the environment around them to maintain their body temperature. Fishes need around 80 degree temperature for their comfort and well-being. So this is where an aquatic heater comes into play.
STOP, don't just go online now and start buying heaters for your aquarium. Please continue reading.
Factors to Consider when Choosing the Best aquarium heater
There are several factors to take into account when selecting an aquatic heater. We have listed below a few of them, go through each and keep these in-mind while selecting the aquatic heater for your aquarium.
Cost –

Don't just buy any heater by paying a high price. It might not be the one suitable for your aquarium. First and foremost fix a budget. Then you need to do some research, know your options and familiarize with the product you intend to purchase. The product should offer the maximum service for the price you are spending.
Easy maintenance – B

uy a heater that is easy to maintain on your own. An aquarium needs to be maintained properly and this means cleaning is required at regular intervals. So go for a heater that is easy to clean.
Safety measures –

while buying heater also keep in mind the safety of your aquatic lives. There should be no risk of electrocution, the heater should keep the water temperature stable and there should not be any fluctuations, which can be deadly to fishes.
Features –

Go for heaters that come with some additional features like a thermometer to show the exact temperature it is at, automatic cutoff system if there is any fluctuation of temperature and availability of covering to prevent the fishes from getting in touch with the heater.

Size of the heater –

 This is an important factor to keep in mind while buying a heater. The size of the heater should be accurate for the size of your tank, how much water it need to heat up, what is the room temperature? These three points should be kept in-mind while deciding the size of the heater. The heater should supply enough power to heat up the water in the entire tank and keep it at a stable temperature.

Placement of heater –

This is another factor to be taken into consideration, the position of the heater in the aquarium. The heater should be placed in an optimum place so that it can provide the function intended and also do not cause harm to the aquatic lives. Heaters depending on the type can be placed vertical or horizontal, inside the tank or in the filter, near the inflow. Choose a perfect position depending on the type of the heater.
Types of Aquarium heaters
There are different type of heaters available in the market. Some of them are
Immersible Heaters / hanging heaters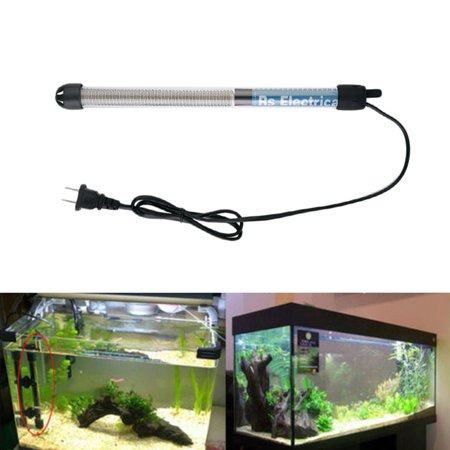 These are apt for those whose are on a tight budget. They are cheap and offer the service it is intended for. They heat up the water by direct contact, the heating pad with its outer covering will be hanging inside tank water (usually at the back of the tank) and the heat control system would be above the aquarium. They can easily break as in most case the outer covering is made of glass. This can also pose a threat to the fishes, if there is glass breakage electrocution is a possibility. There are heaters with titanium outer covering by they tend to be on the costlier side.
Submersible heaters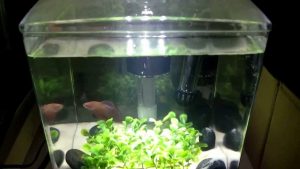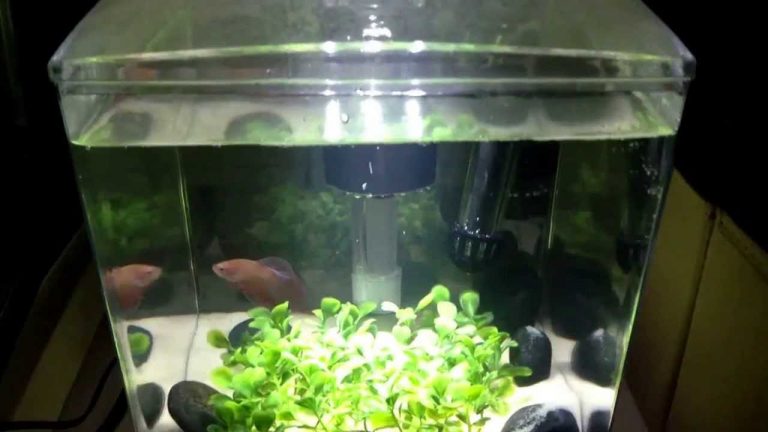 Unlike immersible heaters they are fully submerged inside the tank. These can be placed anywhere in the tank, the best effect is obtained if they are placed horizontally or vertically. Most of the submersible heaters are provided with suction cups so that they can be positioned in the glass tanks properly. These are also cheap compared to the other types and bit pricey than immersible. They are more reliable than immersible heaters.
Substrate heaters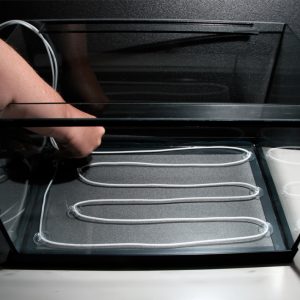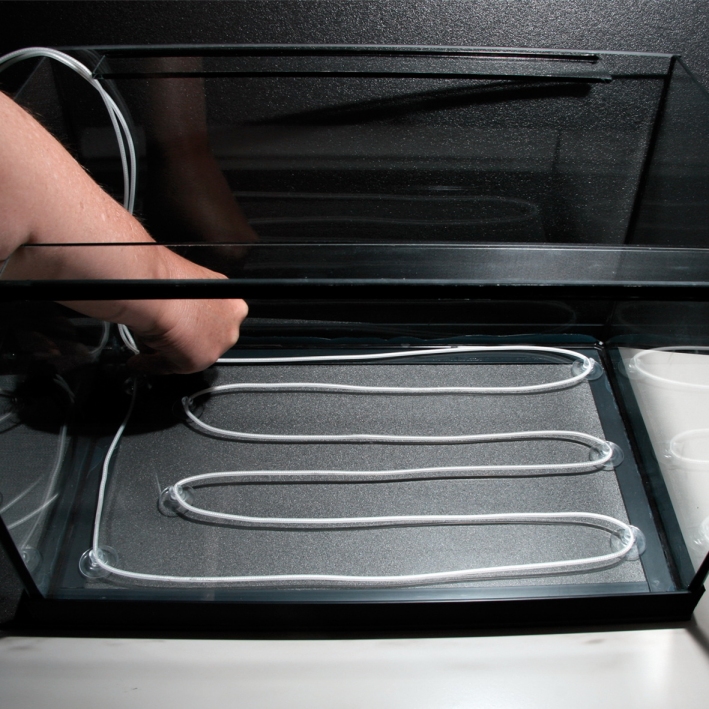 These as the name suggest are placed under the substrate (material used at the tank bottom for example gravel or sand) in the aquarium. They are not commonly used. They contain coil of wires placed in the bottom of the tank under the gravel, when switched on the wire heats up and radiate the heat to gravel which in turn transmit it to the water thus heating up the water evenly throughout the tank. When the water is heated up they automatically switch off. The only and greatest downside to this heater is that in case of maintenance or any issues the whole tank has to be torn down to provide a fix.
In – sump heater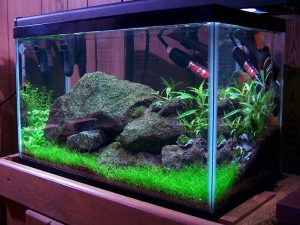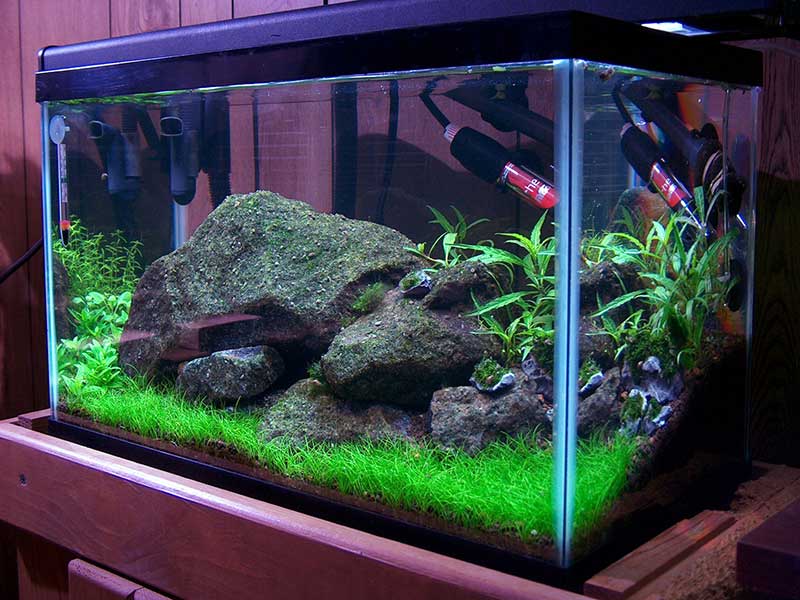 These are placed inside the sump and not in the fish tank. So the fishes does not come into contact with the heater, which makes them safer than in-tank heaters. There is no fear of fish being electrocuted or breakage. They are easy to maintain also as they can be removed and fixed without causing any damage to the fish tank.
In- filter heaters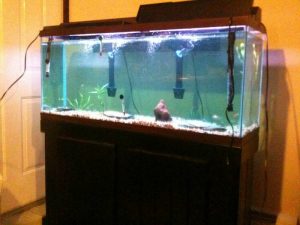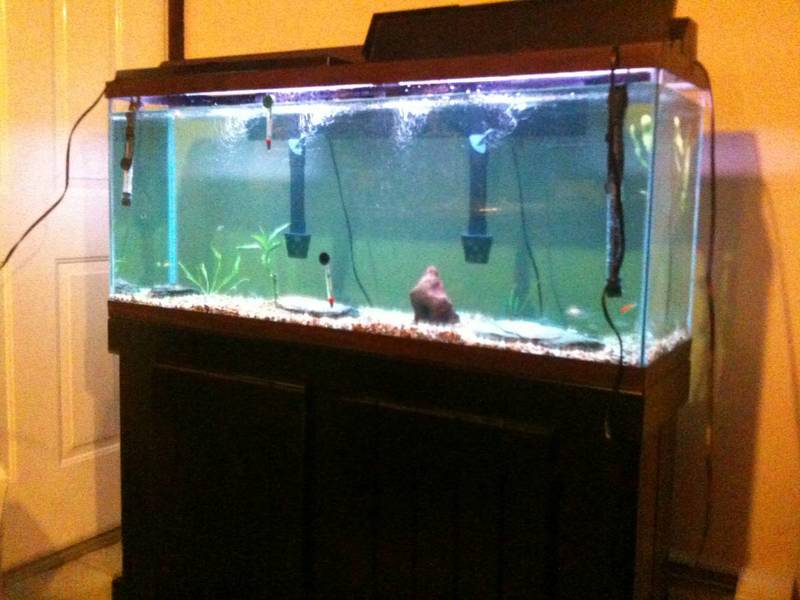 As the name implies the heaters are placed inside the filters and water gets heated as it passes through the filter. These heaters are more appealing as they are not placed in the tank and are hidden away in the filter. They are also apt for heating up large tanks of water. Only downside is that if there is any issue the whole filter need to be taken out.
In- line heaters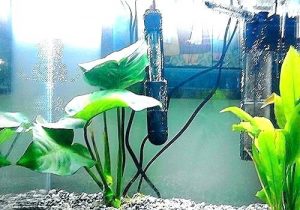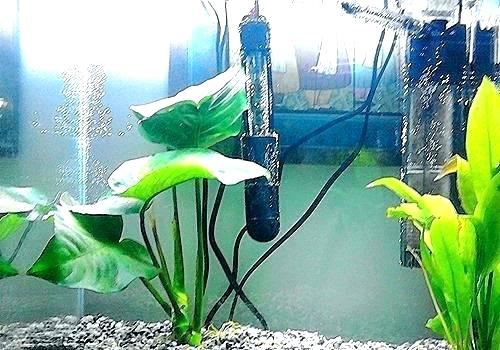 These are placed between the sump and the tank. They are external heaters as it is not placed in the tank. The water enters the heater through a pipe, where it gets heated. After heating the water is flown back out to the tank. These are also good for large aquariums but are also expensive.
So while opting to buy a heater for your aquarium, go through the factors mentioned above, fix your budget and then go for the heater best suited to your aquarium.
Top 10 Aquatic heaters
Given below is the top 10 aquatic heaters as the current market reviews. Research each of them and go through the pros and cons that you face with each of them. Thus opt to buy the best for your aquarium based on your requirement.
Tetra HT Submersible Aquarium Heater With Electronic Thermostat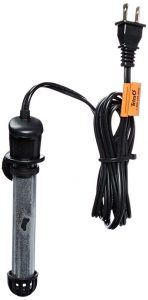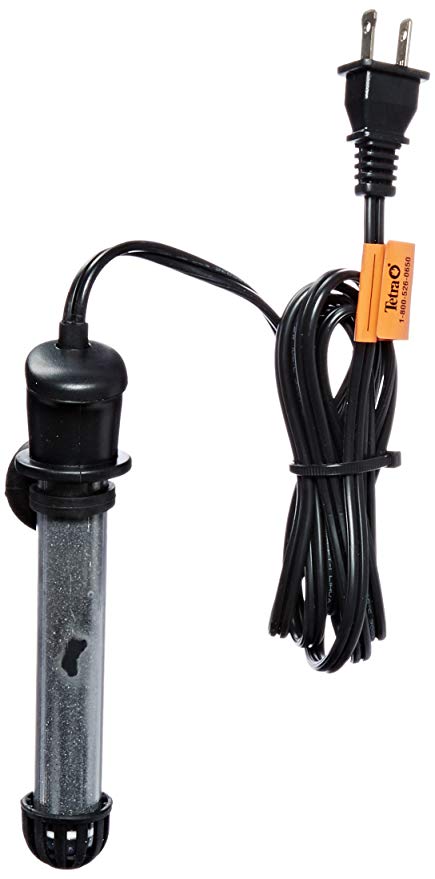 This is a best seller in amazon. It has 3.5 star out of 5. It is in the price range of those with a tight budget. It is a submersible heater of small size. It comes with two power options 50 watts and 100 watts. I t is ideal for aquariums between size of 2 to 10 gallons.
Tetra HT is equipped with an electronic thermostat to maintain water temperature of 78 degree Fahrenheit, which is ideal for tropical fish. The HT can be installed horizontally and vertically, there is a suction cup to hold it in place. HT heaters have LED indicator to let you know if the water has been heated. LED light is red when it's heating up and turns green when proper temperature is reached.
The 50 watt cost about $9.99, while the 100 watts cost about $18.24 in amazon.
Eheim Jager Aquarium Thermostat Heater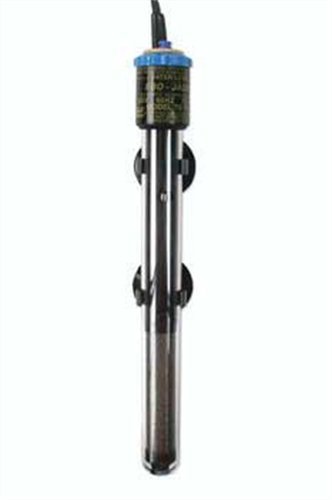 The next best seller is Eheim jager heater, it has the most reviews and has a rating of 3.5 out of 5. It comes in different watts ranging from 25 to 300 watts. It is designed for both fresh water and salt water aquarium. Jager is a fully submersible heater with great features. It is constructed out of shatterproof glass. It can withstand extreme temperature fluctuations.
Temperature can be precisely adjusted from 65 degree to 93 degree Fahrenheit. We can adjust the temperature according to our aquarium needs. There is a thermo safety control which control against running dry that is it will turn off automatically when the water level drops and resume functioning once it's corrected. It has mounting bracket and suction cup for flexible and secure placement. Jager has on and off light indicator.
The value of the Jager is a bit on the high side for 25 watts its $28.67 and 300 watts it's $32.06
Aqueon Submersible Aquarium Heater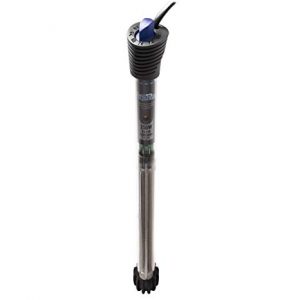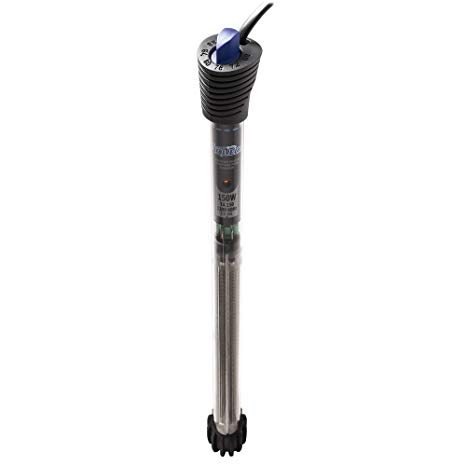 Aqueon heater has a review of 3.5 out of 5. It comes in different power ranges starting from 50 watts to 300 watts. It is suited for aquarium up to 20 gallons. It's made up of shatter proof quartz glass and designed to absorb impacts. Electronic thermostat ranges from 68 – 88 degree F, precision temperature setting to -1 degree F. Power indicator is available to indicate when aquarium water is being heated. Aqueon is provided with suction cup which enable horizontal and vertical placement easy.
The price range is from $18.35 for 50 Watts to $22.20 for 300 Watts.
Mylivell Aquarium Heater

Mylivell is made up of high quality quartz glass to ensure safe operation. The temperature can be adjusted automatically. Temperature setting range: 65° F – 93° F and the display is easy to read. It is a fully submersible heater with power of 200 watt and is ideal for 45-75 gallon tank. It is suitable for both fresh water and salt water aquarium. It is provided with two suction cup for easy placement. There is a red led light to indicate that the water is heated up.
The price is less about $13
ViaAqua Aquarium heater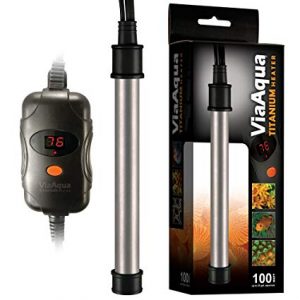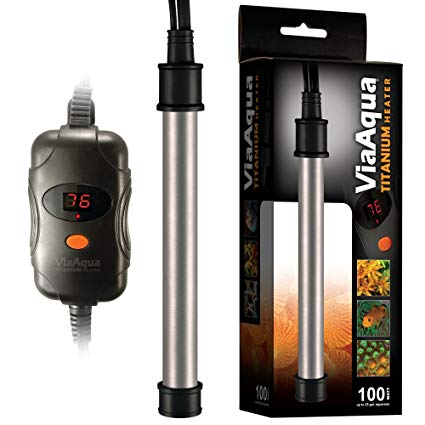 This again a submersible heater. The heater incorporates the best technology and electrical components to date. It is made up of titanium so it will not crack like other glass heaters. Both the sensor and heating probes are unbreakable. It has an adjustable thermostat with LCD read out that makes setting and reading temperature easy. It can be used in fresh water and salt water aquarium. Temperature range is from 68 t0 93 degree F. Heater is perfect for aquarium size of 80 gallons. It works at a power of 300 watts.
The cost of 300 watts heater is $80
Cobalt Aquatics 31000 Neo-Therm Heater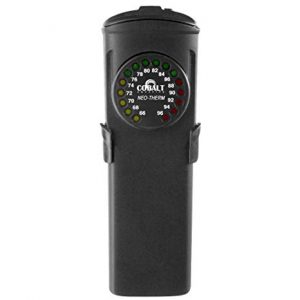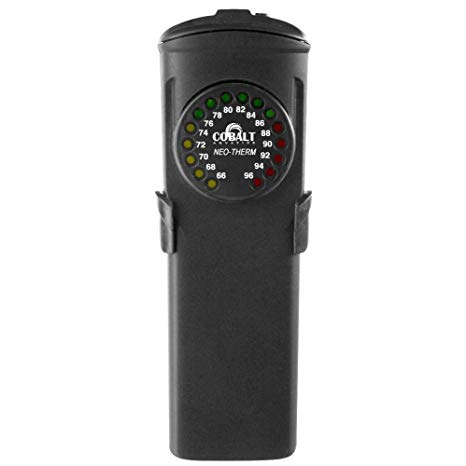 Cobalt aquatics is a fully submersible heater with one touch control system. The advanced thermostat is accurate to ±0.5ºF. The LED display both the set temperature and tank temperature simultaneously. It has set temperature range of 66 to 96 degree F. It's perfect for fresh water and salt water aquariums. Neo-Therm is made up of shatter proof and is indestructible. The thermal protection shut down the heater before it overheats. It comes with a 3 year warranty. Neo therm has easy to set one touch system, it has mounting bracket with suction cup and it has a modern flat design (1/3 inch thickness). It's aesthetically very pleasing.
It's perfect for fresh water and salt water aquariums. Neo-Therm is made up of shatter proof and is indestructible. The thermal protection shut down the heater before it overheats. It comes with a 3 year warranty. Neo therm has easy to set one touch system, it has mounting bracket with suction cup and it has a modern flat design (1/3 inch thickness). It's aesthetically very pleasing.
The heater costs $47.54 for 25 watt heater.
FREESEA 50-300 Watt Aquarium Fish Tank Heater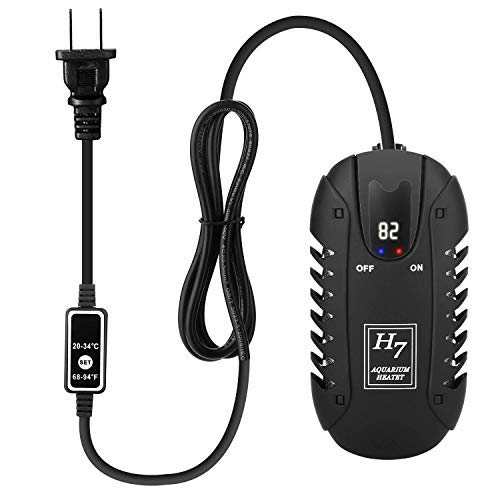 Freesea heater has a rating of 4 out 5. It has a multifunction LED digital display heater, which uses advanced integrated circuit technology. The heater clearly and accurately display the water temperature. It has compact oval shape which is easy to hide under or back of the aquarium. Heater is equipped with suction cups that make installation easy. External button help to adjust the temperature settings. Temperature range is from 59 to 94 degree F. LED display is easy to read. It has about 1 year warranty.
The cost of the heater is $20
Uniclife Submersible Aquarium Heater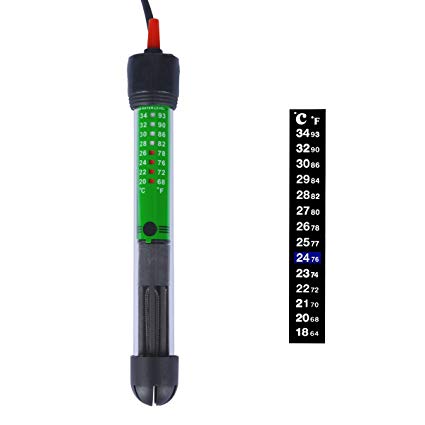 The heater is not expensive. Heater maintains the temperature range from 61 to 90 degree F. There is a simple practical thermometer that are paper thin about 5.2 inch. It uses color changes from white to blue with water temperature. It comes with three suction cups, so the clamps tightly fix the heater to the tank vertically. The heater is perfect for 5 gallons with power of 25 watts, it is made up of shatter proof glass and prevents electricity leakage. The heater comes with 1 year warranty.
The heater costs about $10.99
Fluval Marina Submersible Heater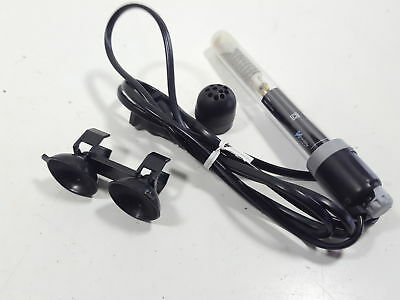 Fluval is a submersible heater comes in various power ranges of 50 watt to 300 watt. Heater is suitable for fresh water and salt water aquariums. The heater is easy to use, safe and convenient. Fluval include an easy to access temperature set dial. It is made with high impact glass which is built to last in normal aquarium conditions. For fish safety it's installed with a bumper guard. It is equipped with on and off light indicator.
The cost of 300 watt is about $16.50.
JBJ True Temp Titanium Heater
The JBJ heater is the most advanced heater using the latest technology. The titanium heater is fully submersible, the heater is corrosion resistant with integrated shut off. It consists of digital temperature control with set point of range 32 to 99 degree F. It allows you to check and calibrate the heating system with a thermometer. It comes with a heat guard. Heater is available in variety of wattages.
The 150 watt heater costs about $89.51
Conclusion
For the comfort and well-being of our aquarium we need to get a right aquarium heater. Aquarium heater should be durable and cost efficient. Proper research should be conducted before investing in a heater, the heater should be able to perform its function with full accuracy. While choosing a heater keep in mind the factors mentioned above and select the best one suited for your aquarium.